Research with Students
Students List
Learning through research
Raman Imaging and Spectroscopy Lab
Chemical and Biological Applications of Raman Spectroscopy (pdf, 7 MB)
Quartz Crystal Nanobalance Lab
Studies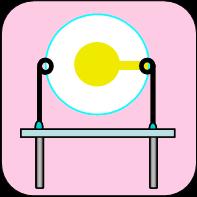 Electrochemical Quartz Crystal Nanobalance (EQCN) technique utilizes quartz vibrations and piezoelectric effect to measure mass changes as small as a fraction of a monolayer of atoms
Back to
Professor Maria Hepel
hepelmr@potsdam.edu
Atomic Force Microscopy Laboratory
Stowell Hall
44 Pierrepont Ave.
Potsdam , NY 13676, U.S.A.
Tel.: +1.315.267.2267
Fax: +1.315.267.3170
Funded by NSF CCLI program, the AFM Laboratory is equipped with a Veeco Digital Instruments Nanoscope III, a Multi Mode Scanning Probe microscope, which includes:
- AFM (Atomic Force Microscope)
- STM (Scanning Tunneling Microscope)
- ESTM (Electrochemical STM)
- MSPM (Magnetic Scanning Probe Microscope)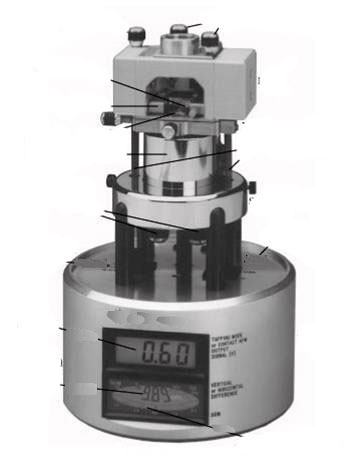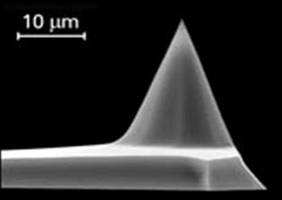 Nanoscope III AFM tip
Interdigitated Microelectrode Array

1500 electrodes in an area of 1x3 mm

Section analysis

Electrode width: 900 nm, height: 120 nm.
Acknowledgment
The AFM/STM instrumentation has been funded by the NSF CCLI program, Award No. 0126402.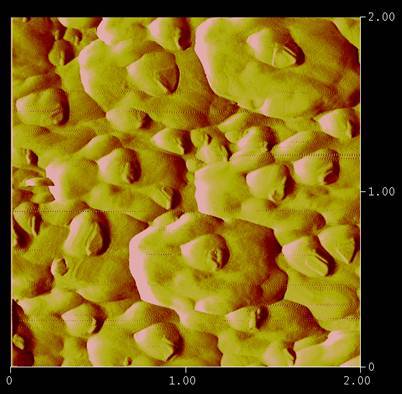 Silver film electrodeposited on gold
with secondary nucleation centers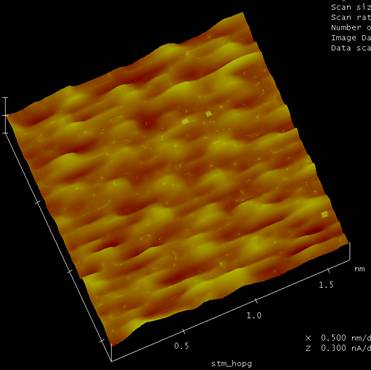 Atomic structure of Highly Oriented Pyrolytic Graphite (HOPG)
high resolution STM image