Research with Students
Students List
Learning through research
Raman Imaging and Spectroscopy Lab
Chemical and Biological Applications of Raman Spectroscopy (pdf, 7 MB)
Quartz Crystal Nanobalance Lab
Studies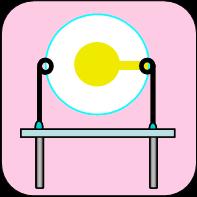 Electrochemical Quartz Crystal Nanobalance (EQCN) technique utilizes quartz vibrations and piezoelectric effect to measure mass changes as small as a fraction of a monolayer of atoms
Back to
Professor Maria Hepel
Research Interests
Stowell Hall
44 Pierrepont Ave.
Potsdam , NY 13676, U.S.A.
Tel.: +1.315.267.2267
Fax: +1.315.267.3170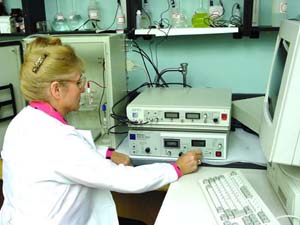 Our research endeavor stems from fascination with novel phenomena and emerging technologies, as well as from the necessity of preserving the environment.
Current research projects involve:
DNA biosensors for stuies of DNA damage by reactive oxygen species (ROS) generated by the Fenton cascade induced by biomolecules in the presence of iron and copper ions.

DNA hybridization biosensors for the detection of gene mutation, with single base-pair sensitivity.

Development of Resonance Elastic Light Scattering (RELS) technique for studies of gold nanoparticle assembly induced by interparticle interactions.

Oligonucleotide-based molecular beacons for ultra-sensitive detection of glutathion, cysteine, homocysteine, and trace mercury analysis.

Studies of titanium dioxide nanotubes and mesoporous semiconductive materials for electrochromic devices, solar energy conversion, and for bimetallic catalysts supports in direct methanol fuel cells.

Quantum conductance with primary focus on novel phenomena of nanowires and monatomic metal nanobridges.

Nanotechnology of single molecule electronic devices

Biomarkers of oxidative stress for evaluation of vulnerability to autism

Effects of toxicants on DNA damage

Conformational transitions of proteins

Nanosensors and ultra-sensitive immunosensors for pesticides and herbicides

Biomolecular studies of Fluorescence Resonance Energy Transfer (FRET) between dye molecules and gold nanoparticles

Environmental studies of photoelectrocatalytic degradation of pollutants

Polypeptide nanochannel ion gates including glutathione, gramicidine, and others, and their interactions with metal ions

Electrochemical Quartz Crystal Nanobalance studies of supported bilayer lipid membranes and adsorbed protein films


RESEARCH GRANTS
A total of $1,432,000 awarded for research studies from several funding agencies including:
SUNY Research Foundation Collaboration Grant "Functional SERS Nanoprobes for DNA Detection & Imaging" (2014/2015)

Network of Excellence (NOE) SUNY, RF Grant "Carbon Nanocups, Nanotubes and Composite Graphene for Energy Storage" (2014)

Network of Excellence (NOE) SUNY, RF Grant "Education/Training/Outreach in Energy Materials" (2014-2015)

US Department of Education Title III Strengthening Institution Grant, Center for Undergraduate Research (2009/2010)

Joseph B. Kilmer Undergraduate Research Apprenticeship (2009/2010, 7 Awards)

National Science Foundation, CCLI Grant for Atomic Force and Scanning Tunneling Microscope (2003)

American Chemical Society PRF Fund

Research Corporation Cottrell College Science Awards

Chema Technology

W.C. Merwin Rural Services Institute Awards

Faculty Undergraduate Summer Research Program Awards, SUNY Potsdam (12 Awards)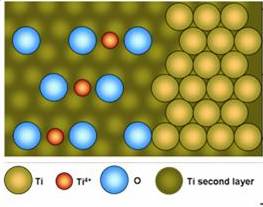 Nanoporous TiO2
for solar energy conversion and direct methanol fuel cells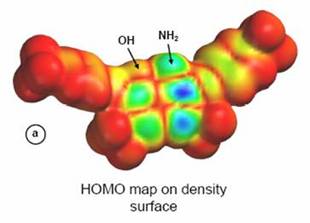 Degradation of dye pollutants
Electron density surface
with map of highest Occupied Molecular Orbitals (HOMO) for dye pollutant Remazol Blue Black. Decomposition of pollutants studied by photo-electrocatalytic method using TiO2, WO3, and MoO3 semiconductor electrodes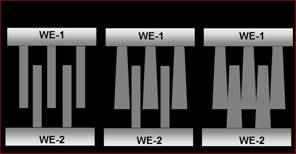 Quantum Conductance Monatomic Nanobridge Devices
studied using conductanc spectroscopy and AFM/STM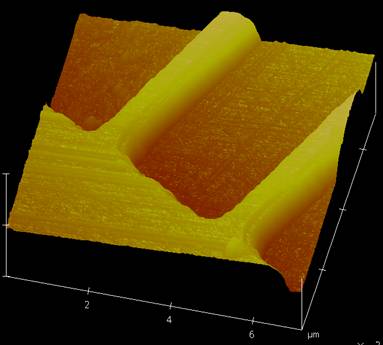 Microelectrode Arrays
with glutathione modified surface used in studies of capacitive sensors for heavy metals
The AFM/STM laboratory has been funded by the NSF CCLI program, Award No. 0126402.