Research with Students
Students List
Learning through research
Raman Imaging and Spectroscopy Lab
Chemical and Biological Applications of Raman Spectroscopy (pdf, 7 MB)
Quartz Crystal Nanobalance Lab
EQCN Principles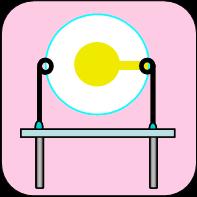 Electrochemical Quartz Crystal Nanobalance (EQCN) technique utilizes quartz vibrations and piezoelectric effect to measure mass changes as small as a fraction of a monolayer of atoms
Back to
Professor Maria Hepel
hepelmr@potsdam.edu
Atomic Force Microscopy Laboratory
Stowell Hall
44 Pierrepont Ave.
Potsdam , NY 13676, U.S.A.
Tel.: +1.315.267.2267
Fax: +1.315.267.3170
AFM Fundamentals
Schematic of AFM principle of operation
Light from a solid state laser is reflected from the AFM cantilever and depending on the degree of its bending activates the lower or upper part of the dual diode photodetector. The photodetector signal is amplified and transmitted to raise or lower the sample along z axis to as the bending of the tip is maintained. The surface morphology of the sample is obtained by monitoring the vertical movement of the sample as a function of x,y position of the sample scanning in in XY plane.
| | |
| --- | --- |
| | |
| Nanopores with 30 nm diameter formed by electrochemical processing in a TiO2 film | Thermal TiO2 grown at 1123 K |
The AFM/STM instrumentation has been funded by the NSF CCLI program, Award No. 0126402.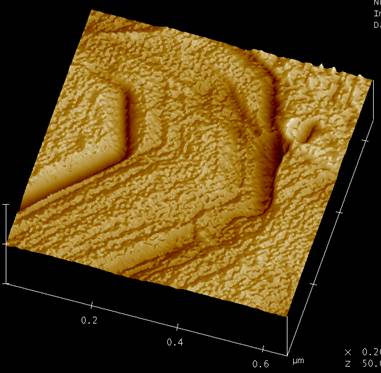 Atomic terraces
on a single crystal Ag
electrodeposited on Au(111)
Cantilever with tip